By Matthew Santamaria (msantamaria@hdsa.org)
Two people impacted by Huntington's disease (HD) fell in love and they were ready to battle HD together.
HD is a fatal genetic disorder that causes the progressive breakdown of nerve cells in the brain. It deteriorates a person's physical and mental abilities during their prime working years and has no cure.
In 1980, Washington resident Paula Felman was previously married to Robert. The couple had their first child, Dallas. He was only three days old when they received a phone call from a family member surprised that the couple had a child with the risk of HD in the family. Every child of a parent with HD has a 50/50 chance of inheriting the faulty gene.
"We had no clue that Robert possibly carried the HD gene," said Paula. "We didn't understand what that meant and we went on with our lives."
In that same year, Mark Felman and his wife, Betty, (who are also from Washington) welcomed their daughter, Stacy, into the world. Before Stacy was born, Mark was concerned about Betty's health.
"I could tell something was wrong, but I didn't know what," said Mark. "Then, I found out her mother had passed away from a disease called HD. That was my first exposure to it."
In 1987, Betty's symptoms progressed to the point where they would visit a geneticist at the HDSA Center of Excellence at
Oregon Health & Science University
. The HDSA Centers of Excellence provide an elite team approach to HD care and research. Professionals have extensive experience working with families affected by HD and work together to provide families with the best HD care program.
"I could tell by the look on their faces that Betty had HD," Mark explains. "They had her talk to a person about mental health and what stage she was in the disease. They put me in a room with a bunch of clinicians and started talking to me about the disease. Within an hour and a half, our whole world changed. Everything went topsy-turvy overnight."
The symptoms of HD are described as having ALS, Parkinson's, and Alzheimer's – simultaneously. Symptoms include personality changes, mood swings, depression, forgetfulness, impaired judgment, unsteady gait, involuntary movements, slurred speech, difficulty in swallowing, and significant weight loss.
Both marriages would deteriorate and end in divorce. Not long after, Mark and Paula's paths crossed while working in the same building. They started dating as they would soon learn that both of them were a part of an HD family.
"Right away we had a connection," said Paula. "We had an understanding."
In 1991, Mark and Paula got married as their children were 10-years-old.
"It's hard to blend families in any circumstance, let alone when each of us had Huntington's history from the previous spouses," Mark explains. "We went on with our lives—neither of our children had been tested or had any symptoms that we noticed at that time. We knew it was possible one of our kids could have it."
The decision to get genetically tested is difficult to make. Each year, 5-10% are tested. It is never the right or wrong decision to be tested. There are people that see no benefit in knowing that they will develop the disease while others want to know in order to make informed choices about their future. It can take up to several weeks to receive your results from the genetic testing center.
In 2005, Mark's daughter Stacy tested positive for HD.
"We thought the result would come back positive because we can see the progression," said Mark.
One year later, her son was born. However, Stacey's marriage later ended as she would live with her father. As her symptoms worsened, it became apparent that Stacy needed to live in a nursing home to receive round-the-clock care.
"It was frustrating because most places didn't want to take a person with HD," Mark explains. "They thought it was like having the plague and didn't want to deal with it. She wanted to be as independent as possible, and we finally found an assisted living facility for her. They were wonderful to her. They loved her and helped care for her."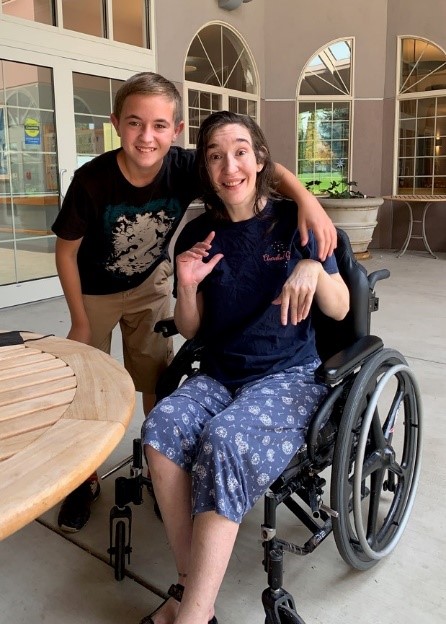 On December 22, 2021, Stacy passed away due to complications from HD. To read more about Stacy,
click here
For Paula's ex-husband Robert, his symptoms progressed further as Mark helped him as much as he could. He was placed in a nursing facility and passed away in 2018. He would get tested for HD when it became apparent that Paula's son, Dallas, was at risk for HD.
In 2014, Dallas was working in Portland and lost his job. According to Paula, they knew what was going on with her son and a positive test verified it. He would move in with his mother and Mark.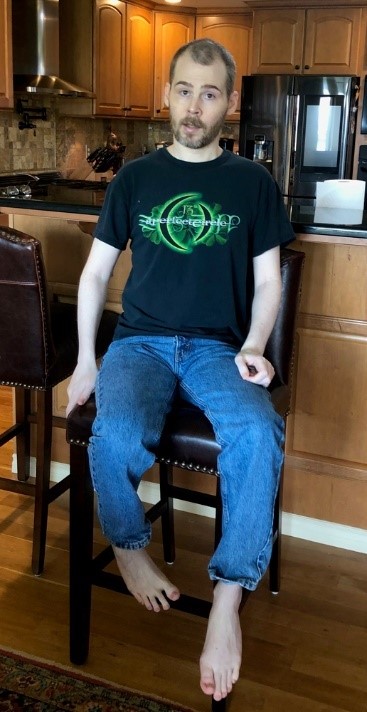 Through their HD journey, the family has praised the HDSA Centers of Excellence at the
University of Washington
.
"They've been absolutely fantastic for us," Mark explains. "I don't know what we would do without them. We can call and send an email when there is something that's changed or need something fast and they respond quickly."
The family did have a situation with the Social Security Disability Insurance (SSDI) process.
"While trying to complete the SSDI process we were put in touch with a psychologist who didn't have a clue what HD was, what it meant, or what to look for," said Mark. "The psychologist's report said Dallas's condition wasn't that bad. We had to get an attorney."
Applying for disability benefits is a necessity for most HD families, but the disability process is often complicated and overwhelming, whether it is a Social Security disability or a private disability. To learn more,
click here
"Part of the difficulty with the disability process is having to come to terms with applying for disability," said Allison Bartlett, HDSA's Manager of Disability Programs. "There is always fear and concern about the difficulty of the process and how long it will take, but there is also sadness. No one wants to be forced to stop working because of an illness. Every client I have had said they would keep working if they could. It is okay to be sad and frustrated, that is part of the disability process, but remember that Social Security disability is a benefit that you pay into. If you need SSDI because of an HD diagnosis, you have earned that benefit and no one should feel bad about taking it."
In Dallas' case, the family would find an attorney advocacy group in New York City that was able to help them with the necessary paperwork that was able to be presented to the judge. However, by law, the judge in Yakima, Washington could not do a video conference with attorneys in New York. This means that the family had to start from the beginning and was later able to receive the benefits.
"The judge was furious at the psychologists for what they did and wrote a scathing letter to the psychologist/doctor about the situation," said Paula. "It should have been automatic because Dallas had already been tested and diagnosed. But it took 18 months and two attorneys to fight this thing and make it happen. We're now good with SSDI benefits, but it's tough for the families that have to go through this as we did."
Allison Barlett shares her thoughts on what the family has gone through:
"This highlights a lot of misconceptions about the Social Security disability process. First, and I cannot stress this enough, a gene test alone is not enough to be found disabled by Social Security. This family was approved for disability because they had the necessary medical evidence showing that Dallas was disabled as a result of HD. Second, the family hired a lawyer to represent them at the hearing. The chance of getting approved for disability at a hearing is significantly higher with an attorney. Third, families cannot assume that Social Security is familiar with HD or that anything about an HD case is obvious."
Allison continues: "For example, HD is listed under "A" for Adult-Onset HD in Social Security's database. It is the family's job to clearly list the symptoms and limitations that impact their loved one with HD in the application. Fourth, we do not get to evaluate the credentials of the individuals who review a Social Security disability case, we do not get a say in who reviews the case, so families have to make sure they submit the strongest case possible with all relevant medical evidence. There are times that HD families get wrongly denied, but that is why it is so important to appeal denials and take them to the hearing because a wrongly denied case will be apparent to a judge. And finally, it is not Social Security's job to find you disabled, it is your job to prove that you are disabled."
Without passage of the HD Parity Act, patients with HD will continue to suffer the mandated 2-year waiting period for Medicare benefits after qualifying for Social Security Disability Insurance. To learn more,
click here
The Felman family has a message for the HD Community:

"The things we go through with HD with our kids is not a frustration – that's life. This is our life and what we do for our children is out of love. We do not allow negative thoughts. If we had that enter our thought process it would swamp our boat. We choose to be happy and go through life with joyful things."
###
Huntington's disease (HD) is a fatal genetic disorder that causes the progressive breakdown of nerve cells in the brain. It deteriorates a person's physical and mental abilities during their prime working years and has no cure. Every child of a parent with HD has a 50/50 chance of inheriting the faulty gene. Today, there are approximately 41,000 symptomatic Americans and more than 200,000 at-risk of inheriting the disease. The symptoms of HD are described as having ALS, Parkinson's and Alzheimer's – simultaneously.
The Huntington's Disease Society of America is the premier nonprofit organization dedicated to improving the lives of everyone affected by HD. From community services and education to advocacy and research, HDSA is the world's leader in providing help for today and hope for tomorrow for people with HD and their families.
HDSA was founded in 1967 by Marjorie Guthrie, the wife of legendary folk singer Woody Guthrie. Woody died from HD complications when he was only 55 years old, but the Guthrie family legacy lives on at HDSA to this day.
To learn more about Huntington's disease and the work of the Huntington's Disease Society of America, visit www.HDSA.org or call 1(800)345-HDSA.
This is a story featuring a personal experience with Huntington's disease. If you would like to have your story told please contact Matthew Santamaria at msantamaria@hdsa.org