Seattle, Washington (January 25, 2020) –
The Huntington's Disease Society of America (HDSA) Washington Chapter is excited to announce the appointments of Jeff Mickelson as Chapter President and Jeffery Stromberg as Chapter Vice President.
Jeff Mickelson
is a real estate broker with Windermere. Jeff's mother, Rachel, was diagnosed with HD when he was younger and passed away a few years ago. Jeff is at risk for HD.
"HD is something that I am still very passionate about as I am at risk and have seen firsthand how this disease can affect a family," said Jeff. "Over the years I have connected with a few other families that do not have the privilege of living in an area like Seattle that has doctors who specialize in HD and the confusion/frustration it can cause on top of the disease is frightening."
He has been a part of board meetings in the past as his family was active with the Chapter. As Chapter President, Jeff is looking forward to expanding outreach and awareness especially in the youth demographic.
"Outreach and awareness go hand in hand, not only for people of older age, but for our youth as well," Jeff explains. "Working to bring in a younger demographic for this organization would be one of my top tasks, as well as expanding outreach and increasing charity events."
​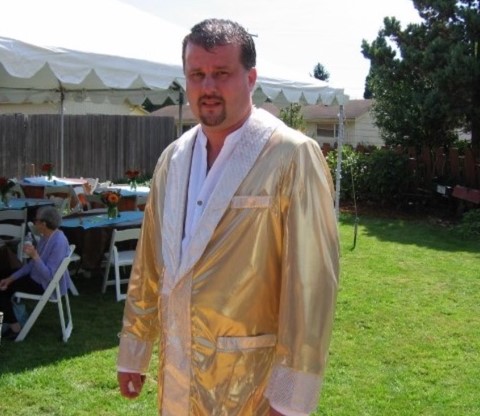 Jeffery Stromberg
has known about HD for more than 25 years. HD has affected his outlook on life from the day that he was born when his mother started to develop symptoms. "Everywhere I turned it was there like a little brother that is always there nagging you, but rather than allow it to dictate my entire existence I chose happiness and fortitude," said Jeffery."
He has lost family members from HD. According to Jeffery, as time went on, he decided to step back into the HD Community as he felt he was in a good place in his life.
"I have been quite impressed with the great strides and progress this community has made in research and support for families, patients, and caregivers," Jeffery explains. "I want to be able to provide either with my services, my experiences, and or maybe just to listen. Not sure where this will all take me, but as one of my guiding beliefs states the meaning of life is experience and experience involves adventure and adventure truly begins when things start to fail."
To learn more about HDSA's Washington Chapter,
click here
###
​Huntington's disease (HD) is a fatal genetic disorder that causes the progressive breakdown of nerve cells in the brain. It deteriorates a person's physical and mental abilities during their prime working years and has no cure. Every child of a parent with HD has a 50/50 chance of inheriting the faulty gene. Today, there are approximately 41,000 symptomatic Americans and more than 200,000 at-risk of inheriting the disease. The symptoms of HD are described as having ALS, Parkinson's and Alzheimer's – simultaneously.
The Huntington's Disease Society of America is the premier nonprofit organization dedicated to improving the lives of everyone affected by HD. From community services and education to advocacy and research, HDSA is the world's leader in providing help for today and hope for tomorrow for people with HD and their families. HDSA was founded in 1967 by Marjorie Guthrie, the wife of legendary folk singer Woody Guthrie. Woody died from HD complications when he was only 55 years old, but the Guthrie family legacy lives on at HDSA to this day.
To learn more about Huntington's disease and the work of the Huntington's Disease Society of America, visit www.hdsa.org or call (800)345-HDSA.
FOR IMMEDIATE RELEASE
Matthew Santamaria
Communications Coordinator
(212) 242-1968 ext. 204
msantamaria@hdsa.org